Get A Free Quote, Free Trial And 50% Off Introductory Offer. For Professional Carpet Cleaning in Hawkinge Call ACS Carpet Cleaners Today on 01303 684019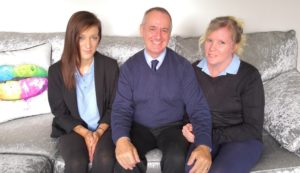 Hello, we are Perry, Marina & Jasmine Matcham, owners of ACS Carpet Cleaning, local family run carpet cleaners.
Here at ACS, we've been cleaning carpets in Hawkinge for more than 30 years now.
We're internationally qualified carpet cleaners, and have vast experience, having cleaned over 12 million square feet of carpets in homes, offices, medical practices, hospitals, schools, and hotels since 1989, as well as cleaning thousands of sofas, chairs, and rugs.
Around 70% of our work every month is from previous happy clients, and the friends they refer to us.
Because we'd like you to become a long-time carpet cleaning client too, you can be sure we won't do a cheap, soak-it-and-run job for you either.
With our Free Trial, you can see how lovely your clean carpets look before you commit to the work.
You'll also get a free no-obligation in-home, or in-business carpet cleaning quote, with an introductory 50% Off.
Please feel free to  call us on
01303 684019
Specialist Carpet Cleaners in  Hawkinge
ACS Carpet Cleaning proudly brings internationally certified carpet cleaners to Hawkinge. For over 30 years, ACS Carpet Cleaning has been cleaning carpets for homes and residents in Hawkinge, Kent. Our technicians are highly professional and efficient and deliver to your satisfaction at all times.
Whichever Of Our Services You Use, You'll Get These ACS Promises…
No Obligation, Free Trial
With Our Free Trial, You'll Be Delighted, Or We'll Leave And It's Free. We want you to be happy with our carpet cleaning, BEFORE you commit to proceeding with the work!
Thats why I created my Free Trial Offer. No one else does this!
Call today and arrange a free carpet cleaning quote and free trial.
Free Quote with 50% Off
I'll visit you at your home or business and discuss your carpet cleaning requirements to make sure you get the best possible cleaning. I'll test your carpets to determine the correct product for the carpet type, and I'll provide you with a free writen quotation that includes my 50% ff introductory offer.
Fast Drying
In as little as an hour. We have superfast carpet dryers that can dry your carpets quickly, often in much less than one hour.
No need to slosh around on wet carpets for days!
Carpets Last Longer
All major carpet manufacturers recommend regular professional carpet cleaning. Annual carpet cleaning can prolong the life of your carpets by four times. Uncleaned or poorly cleaned carpets wear out much faster. My premium carpet cleaning will provide your carpets with the best possible care.