Get A Free Quote, Free Trial And 50% Off Introductory Offer. For Professional Carpet Cleaning in Thanet Call ACS Carpet Cleaners Today on 01843 310041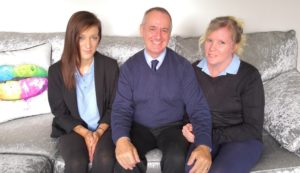 Hello, we are Perry, Marina, and Jasmine Matcham, owners of ACS Carpet Cleaning, local family run carpet cleaners.
Here at ACS, we've been cleaning carpets in Thanet for almost 30 years now.
We're internationally qualified carpet cleaners, and have vast experience, having cleaned over 12 million square feet of carpets in homes, offices, medical practices, hospitals, schools, and hotels in Thanet since 1989, as well as cleaning thousands of sofas, chairs, and rugs.
Around 70% of our work every month is from previous happy clients, and the friends they refer to us. Our Thanet carpet cleaning service includes the towns and surrounding areas too.
Because we'd like you to become a long-time carpet cleaning client too, you can be sure we won't do a cheap, soak-it-and-run job for you either.
With our Free Trial, you can see how lovely your clean carpets look before you commit to the work.
You'll also get a free no-obligation in-home, or in-business carpet cleaning quote, with an introductory 50% Off.
For Carpet Cleaners in Thanet. Call  01843 310041